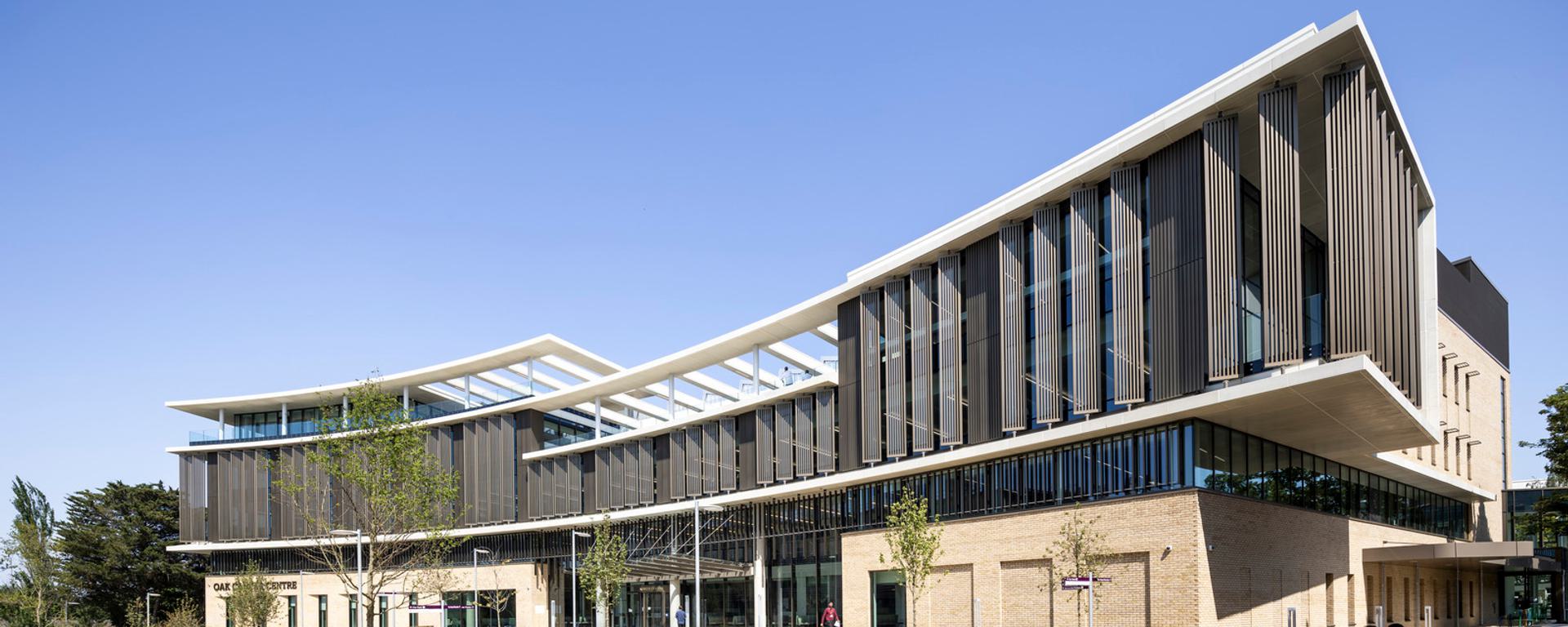 The Oak Cancer Centre
@ BDP/Nick Caville
The new six-storey Oak Cancer Centre provides a hub for the rapid diagnostics of cancer, increased operational capacity for outpatients and ambulatory care and a clinical assessment unit alongside research facilities. The centre allows the Trust to treat the growing numbers of people diagnosed with cancer every year and will set them up to help people with cancer for decades to come.
It will help accelerate the development of new treatments, help diagnose more cancers at an earlier stage and offer hope for cancer patients worldwide by bringing together over 400 researchers from across The Royal Marsden's Sutton and Chelsea sites.
The new centre has achieved a BREEAM 'Excellent' rating and sustainability features include bio-diverse planting, green roofs and low energy plant.
The lower floors of the building provide patient-facing facilities with the upper floors housing the research community and staff café with access to an open roof terrace.  The ground floor includes a reception, patient transport and outpatient clinic facilities which has easy access to a phlebotomy suite, providing a rapid turnaround of blood test results for patients and an outpatient dispensary. The Royal Marsden Cancer Charity office and a café is also located in this area as there is a high footfall of patients and visitors.
The clinical floors include a rapid diagnostic centre with consulting, examination, mammography, ultrasound and endoscopy facilities. The endoscopy facilities have easy access from the main hospital building allowing inpatients to undergo procedures in the unit.
The centre also provides a dedicated outpatient facility for haemato-oncology patients and an acute oncology centre for the urgent assessment of Royal Marsden patients taken unwell, either at home or when attending an appointment. This centre for urgent care includes assessment trolley bays and a recliner area.
The upper floors of the centre houses research and staff support facilities including meeting rooms and break-out areas alongside facilities for remote consultations (telephone/Skype) with patients.
Client
Royal Marsden NHS Foundation Trust
Location
Sutton
Sectors
Services