Posted On August 04, 2016 By Rachel Collins
A Day in the Life of a Woman in Construction
The Women in Construction and Engineering (WICE) awards were held at The Waldorf Hilton Hotel last week with representatives from across the property and construction world turning out in force to judge finalists from 25 categories across the industry. G&T Partner, Rachel Collins, was part of a panel of three judges for Best Female Contractor where entries were awarded marks across a number of categories. Read on to find out more about the event and get an insight into the life of a woman in the construction industry….
The Night Before
The evening before the judging day all of the judges were brought together for networking and dinner. It was a really enjoyable evening and a great opportunity to share views and network with leaders of the industry. Topics of conversation included the state of the industry today and improvements to diversity in construction over the judges' working lives, as well as the trading of many stories and anecdotes of the judges' own experiences as women in the construction industry. Thankfully, mostly from the distant past! Last minute tips from previous judges were also welcomed.
"It was my first time judging on an awards panel and I was a little apprehensive"

Rachel Collins, G&T Partner
The Day
Breakfast and Arrival
The judging day itself had a packed agenda and prompt 8am start. After getting an early night following the judges' dinner there was just enough time in the morning for some last minute reviewing of the judges' handbook, while getting my morning caffeine hit before the journey into London.
The judging day started with a networking breakfast attended by all the judges, speakers and finalists – there were lots of nervous faces around as the finalists contemplated the day ahead. I think the finalists were feeling the pressure of presenting to a panel of three judges followed by a 20 min Q&A session, so the breakfast was a good opportunity to put the finalists at ease and to reinforce their achievement in being there.
The Judging
It was my first time judging on an awards panel and I was a little apprehensive about what to expect as we sat down for the first round of judging, only to be told that our first finalist was unable to attend. While there was initial disappointment, as we were all keen to get started, we didn't have to wait too long until the first round of 'soapbox' moments. This was where each finalist took it in turn to stand up and present why they should win their category, which was then scored by all the judges.
The soapbox moments were an unexpected highlight of the day. The finalists' personalities really came across and it was uplifting to hear about so many initiatives to increase the number of women in construction. It was inspiring to see so much enthusiasm, passion and creativity.
"I was genuinely impressed with the high calibre of finalists."

Rachel Collins, G&T Partner
The remainder of the judging went without a hitch and with the winner still under wraps, I can't say too much, but we heard five impressive, if quite different, presentations from our finalists. Having already reviewed the written submissions, it was great to hear the finalists talking about their experiences in their own words. Scores were awarded across a number of categories – involvement and commitment to the industry, career and education, team work and leadership skills, knowledge of workplace health and safety issues, customer relations and other pursuits, hobbies and extracurricular activities.
I was genuinely impressed with the high calibre of finalists, the professionalism of the presentations and reflective thought in the Q&A sessions which made scoring very difficult. There was such diversity in the candidates, from their backgrounds, routes in to the industry, stages in their careers and even different countries of workplace. It was no easy task to relatively grade their achievements, a sentiment that was shared across our judging panel.
This makes me just as keen as the finalists to learn who has scored most highly in the average scores!
Lunch offered a great chance to speak to finalists from a number of different disciplines and a common comment amongst them was how much they had enjoyed the opportunity to reflect on their careers and achievements to date, while putting together their presentations. I spoke to finalists that had been instrumental in setting up women's networks, pushing forward the sustainability agenda, implementing mentoring programmes and challenging mentalities and ways of working and it was great to see them exchanging ideas and making contacts, alongside a lot of lively debate.
The Results
Each judge scored independently without any consultation so the winner of each category has not yet been revealed. The winners will be announced at the awards dinner on 19th May – I will be on my hen do so will be keeping a close eye on twitter to see who is awarded Best Female Contractor on the night!
The People
The Finalists
As well as presenting to the judging panels, the finalists had a full agenda of talks, panel discussions and debates led by experts in construction and engineering, covering topics from the importance of social media in modern day working to mentoring and building resilience.
The Judges
Judges included Directors and Partners from companies and professional bodies across construction and engineering, with nearly 50 judges attending to score across more than 25 categories. There was a real buzz in the judging room for the whole day. We were well looked after with lots of tea and coffee and even afternoon tea to keep energy levels up, necessary to ensure we gave each finalist the same attention across the total six hours of judging!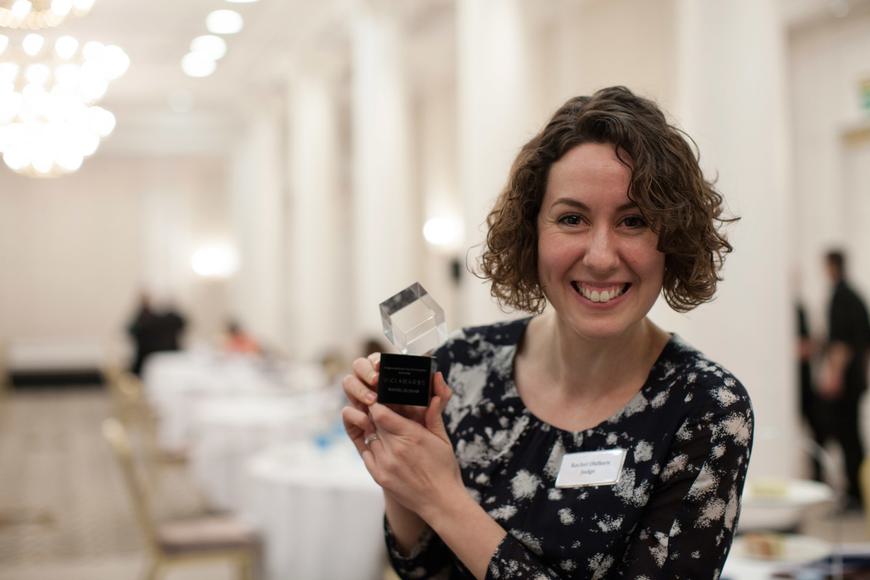 Rachel specialises in the cost management of complex and challenging projects in the mixed-use and residential sectors, including new build, refurbishment, historic and listed building projects. Rachel's main focus is delivering best value to clients, through a hands-on and flexible approach. Rachel is also currently leading a joint cost initiative with the BCSA to benchmark and publish data on the cost drivers of steel framed construction.
Want to hear more about the people at G&T? Follow us on twitter @gt_llp!