Sport at G&T
We have a great sports and social programme at G&T, encouraging people from across the firm to come together.
Join our team
Oct 14, 2021
Unders Overs Football
After the exciting return of live sport at G&T with the cricket earlier this summer, we were pleased to continue the run of fixtures with the annual Under 30s vs Over 30s football match.
On a wet evening down at Paddington Recreation Ground, both sides took to the pitch for what was to be a battle of wills (and who could keep up the pace) after a two year break.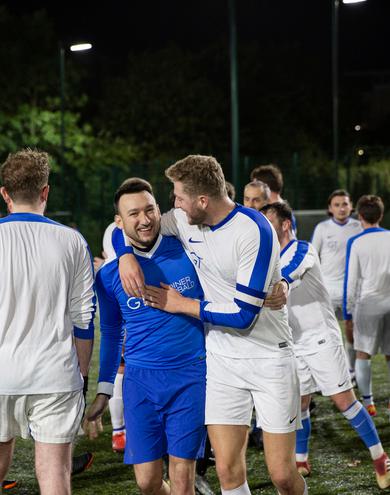 "This annual event helps to bring together people from all over the business. It's always a highlight in the calendar and having missed it last year due to the pandemic, it was even more important to get everyone together for a bit of healthy competition."

Tom Cannon

G&T Associate and Unders' Captain
The Overs, as reigning champions, started off well and following a fantastic opening from both sides, they were put under pressure from the young hopefuls. After a barrage of shots on target and multiple impressive saves from the keeper, the Overs conceded three well engineered goals before the half-time whistle blew. After some strong words from the team captain the opposition pulled out all the stops to scupper the Unders attacking play, however this time it just wasn't meant to be. The final score, a painful 7-0 to the Unders.
"The sports and social programme at G&T has always been an important part of the culture of the firm. The Overs were unlucky this year, with injuries to our key players due to the long break, it put us on the back foot from the start. We will be back stronger than ever next year."

David Mosley

G&T Partner and Overs' Captain
G&T's sports and social engagement programme helps to build collaboration and encourage knowledge sharing across all services and sectors, bringing everyone together and providing new ways of meeting others which is especially important after the last 18 months.