March 30, 2023
Southport's Marine Lakes Centre Reaches New Milestone
Mar 30, 2023
Southport's Marine Lakes Centre Reaches New Milestone
Another milestone has been reached for the Marine Lake Events Centre after Sefton council confirmed Kier will oversee the delivery of the state-of-the-art entertainment and leisure facility. The centre will be accompanied by a water and light show built on the site of the former Southport Theatre. G&T is providing Cost Management and Project Management services on the scheme.
"The MLEC, together with the Light Fantastic, is forecast to attract more than half a million additional visitors to Southport year on year and generate an annual £18 million for the local economy."

Cllr Marion Atkinson

Sefton Council's Cabinet Member for Regeneration and Skills
As part of the development G&T is delivering an integrated social value plan giving back to its communities and ensuring lasting economical, social and environmental value for the area. This includes providing local employment and supply chain opportunities, along with additional resources dedicated to working with students and adults looking for new career opportunities.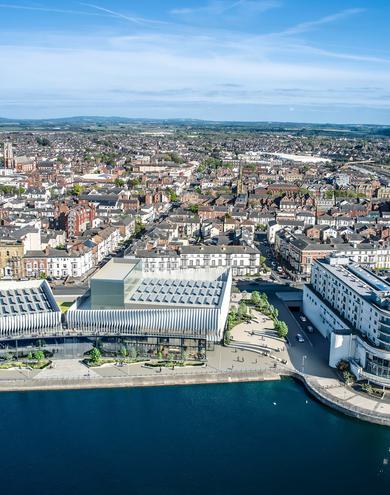 "It's great to be giving back to the local community, supporting a positive future for the people of Southport and ensuring it remains a place people visit."

Emma Scott-Miller

G&T Associate Director
Through G&T's ESG initiative we are committed to enhancing local communities, creating places, spaces and neighborhoods which are sustainable and inclusive for future generations.